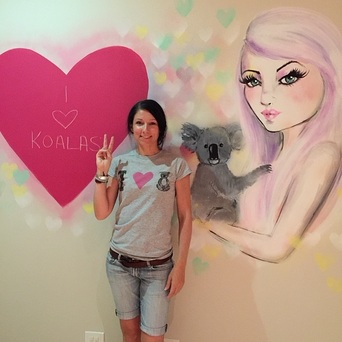 "I believe that education is all about being excited about something. Seeing passion and enthusiasm helps push an educational message."
- Steve Irwin

I am SO excited to share with you the release of the grey I Heart Koala T-Shirts, Kids T-shirts and I Heart Koala Stickers for purchase. 100% profits from all sales are donated to Australia Zoo Wildlife Warriors for the ongoing and incredible work they do for our sick and injured koalas and wildlife.

My I Heart Koala Project is part of my mission to educate people on the importance of us all standing up and being a voice for our koalas to help protect them and their future.
I could go on all day about koalas, I live and breathe koalas and I wouldn't have it any other way. My passion to be their voice and protector is so universal and I have the highest respect and admiration for the many inspiring carers, vets, scientists and wildlife warriors out there working tirelessly and endlessly to save and protect our koalas.

Just recently I had the most wonderful opportunity to give back to someone who gives her whole life, heart and soul to caring for injured and sick koalas. I painted the room that houses the orphaned koala joeys where they live and are cared for while they grow up strong and ready to be released back in to the wild. My gift is my art and this is how I am able to give back to my passions that give me so much. Painting this room was so much fun and the approval of the koala joeys said it all!

I want to send my message to friends all over the world that we can ALL make a difference in our own unique way. This is not just about me and my mission, this is about us all doing our part. You can make a difference so get creative and share your passion with this life. Passion is so powerful it can literally change the world and every small step in a positive direction is making a difference.

Thank you to everyone who has supported my project to date and for continually showing support for my mission, I cannot do this without YOU! Looking forward to seeing all the photos of the I Heart Koala supporters and their merchandise showing up all over the world!

WE HEART KOALAS!