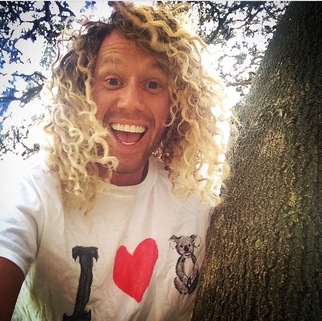 What a fantastic first week in to my I Heart Koala Project! So many generous people supporting my fund raiser by purchasing their I Heart Koala T-Shirts and Eco Tote Bags and sharing the love to help raise well needed funds for The Australia Zoo Wildlife Warriors! People of all ages standing up together to say WE CARE about our koalas and their future and we want to help the Wildlife Warriors with the amazing work that they do.

Amongst many of the positive people joining the I Heart Koala Project is Australia Zoo Wildlife Warrior Global Ambassador Tim Dormer. The support Tim has given me throughout this project has been so positive and inspiring and I'm loving having him as part of our cool koala gang!

Thank you to everyone who has purchased a T-Shirt or Eco Tote Bag to date, you really are making a difference with your contribution and if the money we raise saves one life we potentially save one species…. together.

Keep sharing the love friends, we are only just getting started here! Don't forget to hashtag #iheartkoalaproject when posting pics on Facebook and Instagram of you wearing your T-Shirts or with your Tote Bags!