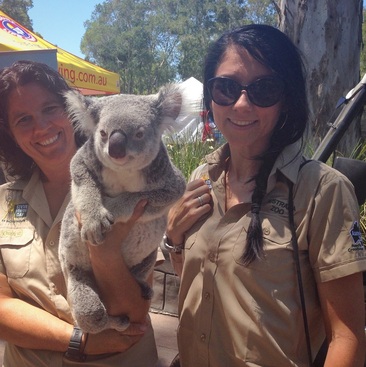 Steve Irwin Day at Australia Zoo was absolutely the best fun ever! What a beautiful day to honour, remember and celebrate such a inspiring man who did so much for this life, our wildlife and our earth.
I was also super excited to finally meet Mackenzie the Koala who I adopted as a gift for a friend recently. Find out how you can contribute to the care of our koalas and other beautiful wildlife by adopting an animal at:
https://www.australiazoo.com.au/get-involved/adopt-an-animal/
.
Australia Zoo and The Wildlife Warriors continue to carry on Steve's mission by educating people all over the world about the importance of conservation, protecting our wildlife and most of all encouraging everyone to unite and follow Steve's dream and become a Wildlife Warrior.
We all have a say in the future of our wildlife and that is exactly why I am a Wildlife Warrior and a Koala Warrior and am so dedicated to educating people through my art and my actions mostly inspiring others to do the same!
Steve encouraged people to be passionate and to be fearless when it comes to standing up for our wildlife. I love being an advocate for our koalas and Steve, Terri, Bindi and Robert are all great inspirations to myself and my mission.
Steve Irwin Day was not only a perfectly organised day filled with fun and educating activities for all ages, it was simply a day filled with happiness, positivity and love radiating throughout the zoo reflecting the man Steve was. I happily swapped my I Heart Koala T-Shirt for khaki in honour of this great man and his beautiful life and had the most fantastic day!
Become a Wildlife Warrior today! Go to
www.wildlifewarriors.org.au