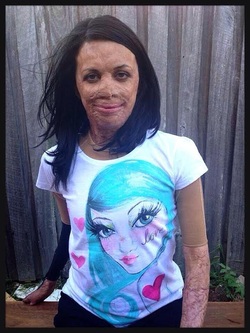 "We are all so much more than our bodies"
- Turia Pitt
Turia Pitt is an inspiration to myself and so many others all over the world.
I asked Turia to be part of my 100 Days of Smiles Project because to me she was the ultimate role model of somebody who had overcome exceptional obstacles in life and yet still smiles and lives a complete
positive life never allowing anything to stop her. Turia is such a beautiful lady through and through, she has opened the eyes of many around the world to what true beauty is and is such a positive role model.
I raised money through my art to support Turia's Great Wall of China Challenge she completed in June 2014 to raise awareness for Interplast who do endless work and research for burns victims all over the world.
www.interplast.org.au
- Maryanne